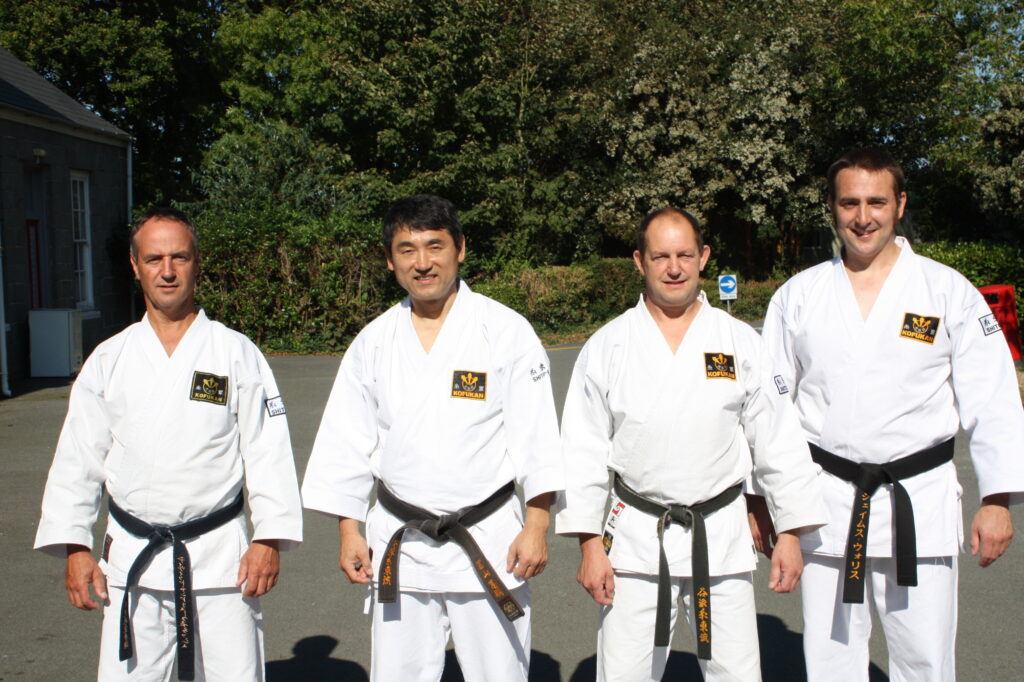 Guernsey Kofukan Karate Club
Our Guernsey Karate club started in the early 1970,s. It began with Dave Moss as the instructor Dave was a 2nd Dan at the time.
Friends Steve Goubert, Dave Ferbrache and Nigel Du Jardin all joined the Guernsey club on the same day in 1974.I believe it was Nigel's idea.
We started training in what was the little theater at the time. And later at Saumarez park in what's now the cafe. Today there is a photograph hung up at high level showing the club at the time. The club has relocated many times.
When we first started training, during the summer months. Quite often we would all go to Herm Island for the weekend.
Running barefoot around the Island first for a warm up then training on the common or on the beach and always end up in the mermaid pub for a few refreshments in the evening. But no excuses the next day everyone would have to train, running around the Island again then maybe some Judo throws on shell beach.
Dave Moss was already, all style England brown belt champion in 1969.
And went on to win the Individual senior European Shukokai title as well.
He was also part of the Channel Islands team winning the European Shukokai title in Brussels which included Guernsey's Nigel Du Jardin. These titles were for fighting but he also placed well in kata events.
So the club started out as a member of the Shukokai organisation under master Chojiro Tani.
We used to get quite a few visits from other instructors. Derek Veitch, Bob Lord, Phil Haines, plus others.
Also in the mid 1970's,we had a visit from Sensei Shimabukuro.
This was our first visit from a Japanese instructor.
In the 70's with Dave Moss we were training under Sensei Kamohara who was based in Paris.
Around 1977 Dave Moss decided to move permanently to Jersey.
So as a club we had a big decision to make. Do we give up training, move to another club or continue and just train ourselves with instruction from Dave Moss once a month or so.
The club at the time had around a dozen members.
We were training three times a week. Two hours per session including Sunday mornings.
We made the decision to continue training ourselves. Things ran quite well with Dave visiting us and us visiting Jersey.
Plus we were Training with Sensei Kamohara whenever he held a course in France or he came to Guernsey.
As a club some of us trained many times in St Malo, Dinan, Chartres, the south of France, and also Alderney where Dave started a club. These courses could be a long weekend or a full week.
At some point Dave Moss changed Sensei's and started Training with Sensei Tomiyama.